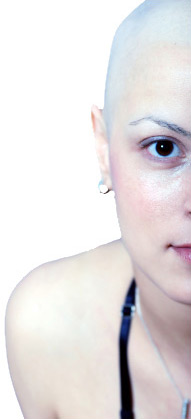 Chemotherapy.
I am seeing more and more people who are receiving chemotherapy treatment. Not all chemotherapy results in hair loss, however some chemotherapy treatment does have the side effect of the patient losing hair and this can be one of the most visual distressing parts of the treatment.
I can help you to appear visually the same as you were, it's important to be able to feel confident in the hair that you choose and I fully understand how this affects you and apart from the traumas and the actual reasons for being treated with chemotherapy it seems like an added burden when you experience hair loss.
I am unable to prevent hair loss occurring, however I guarantee that I am 100% sympathetic to your cause and will take all the time needed to give you back the confidence that you will need to be able to carry on working or socialising without feeling labelled in anyway. While most people think that this work is purely for ladies self esteem there are still a lot of men who don't want to walk around bald and I am also able to help them with the most natural hair on the market.
Chemotherapy is a sudden hair loss in the anagen phase and when it does start to shed it will happen quite quickly.
Be Prepared
Your oncologist will tell you if the type of chemotherapy you will receive will result in hair loss so it is best to prepare for this, organise a wig before the hair is lost if at all possible, as you may feel unwell some days during the treatment. If you can sort this out before treatment begins it helps takes away some of the stress.
I have private facilities and will discuss all your requirements and options. I can also answer all your questions and help to dispel the fear of wearing a wig. As a professional Trichologist/Hairdresser I can help and advise you on any pre-styling you may need and when your hair re-grows I can help you get the best from that so you can shed the wig as soon as possible.
I have a variety of caps and bandannas that you can try and I can advise on, should you not wish to wear your wig 24/7 or indeed if you prefer just to wear one of our designer caps. Its all about how you feel and how you personally can cope.