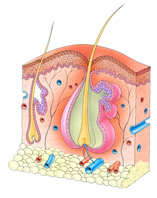 Welcome to Trico-therapy.
Registered Trichologists in Birmingham.
A trichologist is a professional who studies and specialises in hair and scalp problems / disorders and is able to treat the condition accordingly.
As a registered and approved member of the institute of trichologists you can be assured I have been thoroughly trained and I have studied all aspects of hair and scalp related conditions.
A consultation is the initial step in diagnosing a condition or answering any queries you may have. This procedure takes approximately 1 hour, a thorough medical history is taken your scalp and hair is examined and microscopically examined if needed . All aspects of the diagnosis will be discussed and explained in complete honesty...I will also discuss all options available to you.
Tricho-therapy is based in Sutton Coldfield in Birmingham - stop worrying, book your consultation today and find the solution you need.
Always seek professional help I am qualified to diagnose scalp, hair and hair loss problems and I am also an experienced Hair Replacement specialist..Guaranteed private and confidential consultations and treatments.
I am the first step you take for a diagnosis don't let others guess the problem make sure the right advice is available and always use a member of the institute to guarantee that you get a professional trained person.

Direct routes from motorways and on street parking available with no restrictions.